Our Industry
Interested in shaping and promoting Canada's marine industries and shipbuilding? 
Your national source for Canadian shipbuilding and marine industry jobs.
Make connections with other members and learn something new at our seminars.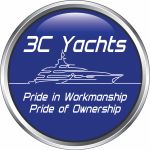 3C Marine & Diesel Ltd, located just north of Victoria BC, is a small specialty company for yacht services in the 30 to 100 ft size range.

Originally created by a group of professionals that wanted to bring better ideas and products to the marine industry, and build lifetime relationships of trust and respect through transparency and pride in workmanship.

"Refreshing" - 3C Client

Full mechanical, electrical, electronics, and boat systems services are carried out by red seal heavy duty technicians, red seal electricians, certified electronic technicians, certified shipwrights, and other high profile professionals in their fields of expertise.
One of 3C's ideas is the implementation of a web portal, where the customer can access:  daily pictures; descriptions of each picture of what the technician sees; reports of work; discussions between the technicians, customer, and company; parts ordered; billing; manuals; and work history.  All in an effort to provide the customer with current information, and to help make good informed decisions on their projects.
Join today
Reap the benefits of having your voice be heard in Ottawa, get the competitive edge with our member-only promotions, and instant access to requests to proposals and more, by joining CMISA today. 
Thanks to our sponsors
This site is made possible by: