Our Industry
Interested in shaping and promoting Canada's marine industries and shipbuilding? 
Your national source for Canadian shipbuilding and marine industry jobs.
Make connections with other members and learn something new at our seminars.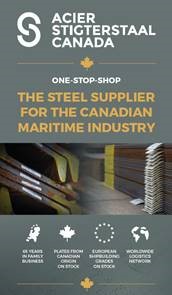 ABOUT US
Since 1956 Stigterstaal is a brand in the shipbuilding industry for the supply of shipbuilding plates and profiles. We stock ca. 40.000 tons of 3.2 class certified steel in our main warehouse in the Netherlands, and supply our materials door to door in over 30 countries around the world. With our devoted team we are always looking for the best solutions for each project. Ranging from one truck of materials to a tailor made steel supply chain, including warehousing, just in time deliveries and further added services. From ship repair to new build. Since 2010 we have been active on the Canadian market being able to supply the right shipbuilding grades, in the required dimensions, and according to the highest quality requirements.
To be closer to our customers and subsequently shorten delivery times we opened a Canadian branch office and warehouse in 2021.With painting possibilities and proximity on the Lakes, our site in Brantford Ontario has helped expand our footprint in Canada and the US. In 2023 we expand our stockyard by investing in a brand new covered warehouse. With a worldwide network of steel mills which we cooperate with and two stock yards one in Canada and one in the Netherlands you are able to benefit from our 65 years' experience in the marine industry from your back yard.
ONE-STOP-SHOP
Having customers who do not have their own profiling facilities, Stigterstaal is able to provide building kits together with dedicated partners in the shipbuilding industry. These services include, cutting, bending, chamfering, 3d shaping and other services which are needed for your project. In the end you will receive a building package ready for assembly which will save you time in production and consequently costs.

OUR SERVICES
Customer service is one of the key drivers within our company and by that we are able to provide you with a tailor-made solution in order to create maximum flow to your project. This includes warehousing, documentation, additional services like shot blasting and painting, project management, inspection as well as testing.
Join today
Reap the benefits of having your voice be heard in Ottawa, get the competitive edge with our member-only promotions, and instant access to requests to proposals and more, by joining CMISA today. 
Thanks to our sponsors
This site is made possible by: