Our Industry
Interested in shaping and promoting Canada's marine industries and shipbuilding? 
Your national source for Canadian shipbuilding and marine industry jobs.
Make connections with other members and learn something new at our seminars.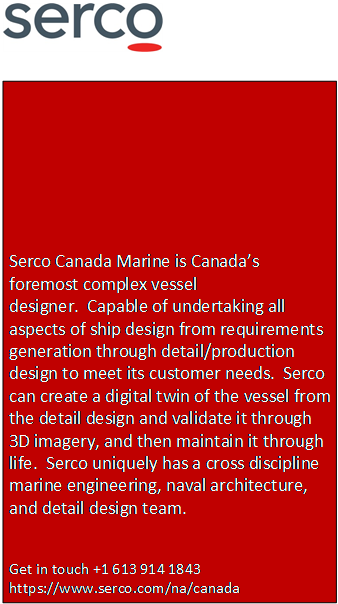 Serco Canada Marine, headquartered in Ottawa, provides a Canadian based ship design and engineering capability through all phases of the design process from requirements definition through to Detail and Production Design and with expertise spanning naval, coast guard, research, and civilian ships. Serco Canada Marine has been supporting Canada's National Shipbuilding Strategy since inception, including the design and engineering of the Royal Canadian Navy's JSS program. Serco Canada Marine's maritime services also include support to Ontario's for the acquisition of North America's first fully electric ferries. Serco is a global maritime service provider providing more than 130 vessels and 1,000 engineers in support of our customers' missions, and offering a fully integrated end-to-end offering, including: naval architecture, marine engineering, ship design, acquisition support, build and modification services, shipyard oversight, maintenance and repair, crewing, and retirement from service. 
Join today
Reap the benefits of having your voice be heard in Ottawa, get the competitive edge with our member-only promotions, and instant access to requests to proposals and more, by joining CMISA today. 
Thanks to our sponsors
This site is made possible by: