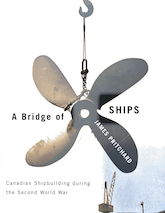 A Bridge of Ships
by James Pritchard
The Story of Canada's shipbuilding industry is as astonishing as that of the nation's wartime navy. The personnel of both expanded more than fifty times, yet the history of wartime shipbuilding remains virtually unknown. With the disappearance of the Canadian shipbuilding industry from both the land and memory, it is time to recall and assess its contribution to Allied victory.
---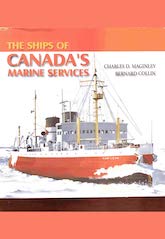 The Ships of Canada's Marine Services
by Charles D. Maginley and Bernard Collin
Although this book is not specifically about shipbuilding in Canada, it's a wonderful resource for those interested in knowing more about the ships that Canada has used outside of the Royal Canadian Navy. Coast Guard vessels, lightships, survey craft, etc. are all found here along with pictures and descriptions. And of particular interest for those on the shipbuilding side, all of the entries show where they were built and the name of the yard. For the trivia folks, the book even includes the only yard that we've ever heard of in Manitoba!
---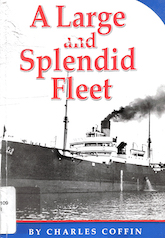 A Large and Splendid Fleet
by Charles Coffin
A valuable addition to the history of shipbuilding in Canada and more broadly to the story of the Canadian industrial war effort during the First World War. The book explains the background and launch of the government program; explores the fifteen shipyards across the country that produced the ships; and then details the lives and stories of the ships that came from those yards. An excellent book for researchers as well as for those simply interested in one aspect of what Canadians did in our shipyards and at sea as a result of the Great War.
---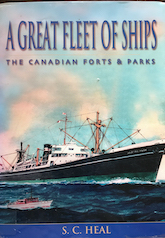 A Great Fleet of Ships
by S.C. Heal
"While the extent of Canada's war production effort, 1939-1945, is fairly well known to Canadians, one aspect of it has largely, and inexplicably, escaped notice. This is the construction in Canadian shipyards, from a standing start in 1941, of 402 merchant ships, most of them 10,000-ton cargo ships. They were launched from seven yards on the west coast and eight on the east coast, St. Lawrence River and Great Lakes. On a comparative scale, it was a feat rivalling that of the United States."
A fascinating read detailing the incredible rise of Canada's merchant marine during the Second World War and how it vanished again by 1950.